Erika James named Dean of the Wharton School
PHILADELPHIA, February 26, 2020 — Erika H. James has been named the next dean of the Wharton School at the University of Pennsylvania, effective July 1.
The announcement was made today by Penn President Amy Gutmann and Provost Wendell Pritchett.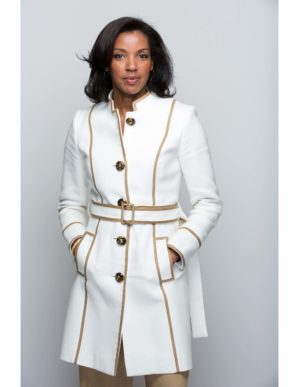 "Erika is an award-winning scholar and teacher and a strong, proven leader who serves as dean of the Goizueta Business School at Emory University," said Gutmann. "A passionate and visible champion of the power of business and business education to positively transform communities locally, nationally, and globally, she is exceptionally well prepared to lead Wharton into the next exciting chapter of its storied history."
James' career has been notable for her commitment to meaningful cross-disciplinary collaboration, superb scholarship, passionate teaching, and excellence through diversity and inclusion. Since becoming dean of the Goizueta Business School in 2014, she has introduced and led an effort to build an innovation and entrepreneurship lab open to all students on campus. She grew the Goizueta faculty by 25 percent by the end of her first term, building a critical mass of junior faculty and seasoned scholars in key academic areas such as behavioral and decision-based research, business analytics, and health care innovation. With strong faculty input and support, she also expanded corporate engagement with the creation of a research-based corporate think tank.
"Erika has consistently and constructively drawn upon her own scholarship in the areas of leadership development, organizational behavior, gender and racial diversity, and crisis leadership," Pritchett said, "applying her own insights into human behavior to foster a work culture that allows people to thrive personally and professionally. She has led faculty and student workshops on such topics as unconscious bias and building trust across divides and has been engaged as a consultant by some of the nation's largest and most prestigious firms."
"This is an exciting time to be in business education," James said. "The scope and platform of the Wharton School provides an opportunity to create far reaching impact for students, scholars, and the business community."
At Emory, James undertook a significant redesign of the undergraduate business curriculum, integrating immersive learning, technology, and partnerships with Emory College's liberal arts curriculum.
Prior to her deanship, she served as the senior associate dean for executive education at the University of Virginia Darden School of Business, working closely with faculty to reimagine executive education and lifelong learning opportunities.
James is an active member of the SurveyMonkey Board and the Graduate Management Admissions Council, and previously served on the board of the Association to Advance Collegiate Schools of Business, the foremost accrediting body in business education. She was awarded the Earl Hill Jr. Faculty Achievement and Diversity Award from The Consortium, an organization committed to increasing diversity in business, starting with graduate school admissions.  She has also been named one of the Top 10 Women of Power in Education by Black Enterprise and as one of the Power 100 by Ebony Magazine.
She holds a Ph.D. and master's degree in organizational psychology from the University of Michigan and received a bachelor's degree in psychology from Pomona College of the Claremont Colleges, in California. In addition to her roles at Emory and UVA, she has served as an assistant professor at Tulane University's Freeman School of Business and a visiting professor at Harvard Business School.
James will succeed Geoff Garrett, who is to become dean of the University of Southern California's Marshall School of Business.
"Wharton has risen to even greater heights throughout Geoff's enormously successful six-year tenure, reinforcing all of its traditional strengths while also building its global force in data analytics, entrepreneurship, fintech, behavioral economics, and other fields that are defining the future of business," Gutmann said.
About the Wharton School
Founded in 1881 as the world's first collegiate business school, the Wharton School of the University of Pennsylvania is shaping the future of business by incubating ideas, driving insights, and creating leaders who change the world. With a faculty of more than 235 renowned professors, Wharton has 5,000 undergraduate, MBA, executive MBA and doctoral students. Each year 13,000 professionals from around the world advance their careers through Wharton Executive Education's individual, company-customized, and online programs. More than 99,000 Wharton alumni form a powerful global network of leaders who transform business every day. For more information, visit www.wharton.upenn.edu.